Benjamin J. Davenport
First Piedmont Company and Davenport Energy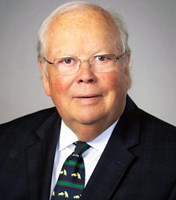 Biographical Abstracts
In 1999-2000, Ben Davenport co-developed the Future of the Piedmont Foundation (FPF), a select group of business leaders committed to reversing the economic decline of Virginia's Southside region. With FPF, he had a primary role in collaborating with Virginia Tech on two major initiatives: The Institute for Advanced Learning and Research (IALR), a regional intermediary institution focused on leveraging formal and informal STEM educational programs; and the eCorridors project, an Ethernet technology network leveraging low cost, high speed broadband access as an economic development tool. He also served as a key collaborator in co-creating the IALR's four research centers aligned with the region's cluster development opportunities – polymers processing, plant biotechnology, robotics, and motorsports engineering.
As FPF vice chairman, he led large-scale activation and political support for the change agenda outlined in the MDC, Inc. report "Learning, Working, Winning" and served as the primary advocate and framer of the policy strategy with the Tobacco Commission and state and federal elected leaders, generating over $80M in support for the IALR and eCorridor project.
His leadership and advocacy in spheres of business, education, and social justice led to impacts on a macro-scale throughout Virginia and contributed substantially to a national model for a micropolitan region's economic transformation.
Areas of Expertise
Business development
Economic transformation of communities
Leveraging science, technology, engineering and math (STEM) educational programs for regional economic transformation
Philanthropy