Meet the Members
ACES has inducted leaders from universities and broader society, who have made significant contributions to advancing university-community collaboration. Read their stories...
News and Announcements
ACES Publishes First White Paper
May 1, 2021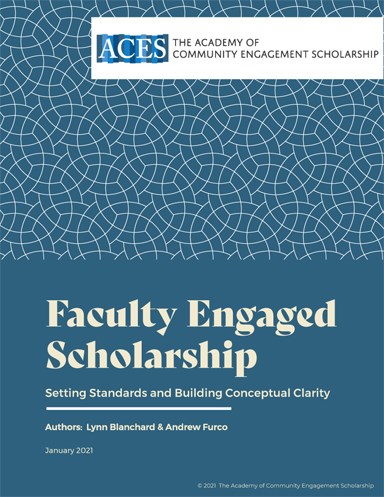 The Academy is pleased to announce its first publication. Faculty Engaged Scholarship: Setting Standards and Building Conceptual Clarity was authored by members Lynn Blanchard, University of North Carolina at Chapel Hill, and Andrew Furco, University of Minnesota.
Abstract: In this report, we begin with an examination how engaged scholarship is presented in promotion and tenure guidelines using case studies from two public research universities in the United States. From the findings of these case studies, we identify several ways in which academic disciplines frame engaged scholarship. We then apply these disciplinary frames to establish a broader framework designed to build greater conceptual clarity regarding the different approaches and pathways that disciplines take to engaged scholarship. We conclude the report with a look to the future in our efforts to set standards and build greater conceptual clarity of engaged scholarship. While the work is bound within the context of these two institutions, we hope that this report will have implications for broader conversations of engaged scholarship and be useful to other types of institutions in the United States and abroad.
ACES Adopts New Committee Structure
April 19, 2021
The Academy's membership has formally adopted a series of bylaws revisions meant to increase opportunities for member engagement through a number of new committees and committe structure. In 2020 an ad hoc Organization Committee was formed and charged by the Board of Directors with examining how ACES could better involve its growing membership in an evolving range of ambitious initiatives. The committee first conducted an asset mapping survey to better understand the experience and skills of members. It then reviewed existing and prospective Academy projects and considered ways the structure of the organization could be adapted to unlock the strengths of members to meet the needs of such activities. What emerged was a plan for a new and more dynamic system of standing committees, and proposed changes to the ACES bylaws to enable it.
On December 15, 2020, members were sent an explanation of the plan, the proposed bylaws changes, and ballots. Voting concluded on April 15, 2021 with over two-thirds of the mebership having voted to adopt the proposed revisions. Announcements about the the formation of committees are forthcoming.
For their throughtful work and vision on this effort, President Burton Bargerstock wishes to thank the ACES members of the ad hoc Organization Committee, including: Jeri Childers, Hiram Fitzgerald (chair), Timothy Franklin, Nancy Franz, Susan Gust, Samory Pruitt, and Audrey Jaeger.
Postponed: ACES 2020 Members' Meeting
March 8, 2020
The upcoming ACES Annual Members' Meeting (March 30-31) is being postponed out of growing concern about the Corona (COVID-19) Virus.
In recent days, both non-profit and private organizations in the U.S. and around the world have adopted no fly policies for their employees. Large associations with significant financial obligations to venues, etc. are continuing to hold meetings, but anticipated attendances are down. Circumstances are changing rapidly and it is unclear what the situation will be by March 30th.

Many ACES members fall within the ages at highest risk of getting and suffering the most serious impacts of the disease. Others live with folks who do, and are concerned about passing illness along to them.

The ACES Board of Directors is exploring ways to take advantage of some of the programming that had already been planned for the Meeting. This may include some webinar events and invitations to serve in an expanded set of ACES standing committees. Further information will be forthcoming.
This has been a difficult decision and one not taken lightly. The ACES Board of Directors is disappointed about it.
The Academy apologizes for any inconvenience the postponement causes, but given the circumstances, it is convinced that this is the most appropriate course of action.
ACES Publishes First White Paper
May 1, 2021 The Academy is pleased to announce its first publication. Faculty Engaged Scholarship: Setting Standards and Building Conceptual Clarity…
ACES Adopts New Committee Structure
The Academy's membership has formally adopted a series of bylaws revisions meant to increase opportunities for member engagement through a number…
Save the Date: ACES 2020 Members' Meeting
March 30-31, 2020 APLU Headquarters Washington, DC The Academy's 2020 Annual Members' Meeting will focus on public policy and the role ACES…