Meet the Members
ACES has inducted leaders from universities and broader society, who have made significant contributions to advancing university-community collaboration. Read their stories...
News and Announcements
Academy of Community Engagement Scholarship Announces Inductees
November 4, 2021
The Academy of Community Engagement Scholarship (ACES) is pleased to announce the names of thirty-eight exceptional scholars and leaders who have been elected to membership in the Academy in 2019 and 2021. Each of the new members has amassed a stellar array of accomplishments related to the production and advancement of scholarship that serves the public good. More specifically, such scholarship is characterized by mutually beneficial collaboration between institutions of higher education and communities of place, practice, interest, action, or circumstance that results in the co-creation of new knowledge.
Download the complete press release including the list of 2019 and 2021 inductees.
ACES Publishes First White Paper
May 1, 2021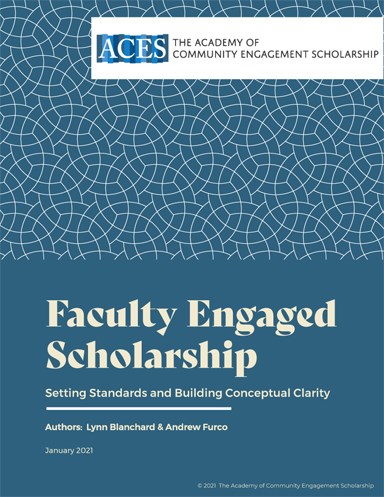 The Academy is pleased to announce its first publication. Faculty Engaged Scholarship: Setting Standards and Building Conceptual Clarity was authored by members Lynn Blanchard, University of North Carolina at Chapel Hill, and Andrew Furco, University of Minnesota.
Abstract: In this report, we begin with an examination how engaged scholarship is presented in promotion and tenure guidelines using case studies from two public research universities in the United States. From the findings of these case studies, we identify several ways in which academic disciplines frame engaged scholarship. We then apply these disciplinary frames to establish a broader framework designed to build greater conceptual clarity regarding the different approaches and pathways that disciplines take to engaged scholarship. We conclude the report with a look to the future in our efforts to set standards and build greater conceptual clarity of engaged scholarship. While the work is bound within the context of these two institutions, we hope that this report will have implications for broader conversations of engaged scholarship and be useful to other types of institutions in the United States and abroad.
ACES Adopts New Committee Structure
April 19, 2021
The Academy's membership has formally adopted a series of bylaws revisions meant to increase opportunities for member engagement through a number of new committees and committe structure. In 2020 an ad hoc Organization Committee was formed and charged by the Board of Directors with examining how ACES could better involve its growing membership in an evolving range of ambitious initiatives. The committee first conducted an asset mapping survey to better understand the experience and skills of members. It then reviewed existing and prospective Academy projects and considered ways the structure of the organization could be adapted to unlock the strengths of members to meet the needs of such activities. What emerged was a plan for a new and more dynamic system of standing committees, and proposed changes to the ACES bylaws to enable it.
On December 15, 2020, members were sent an explanation of the plan, the proposed bylaws changes, and ballots. Voting concluded on April 15, 2021 with over two-thirds of the mebership having voted to adopt the proposed revisions. Announcements about the the formation of committees are forthcoming.
For their throughtful work and vision on this effort, President Burton Bargerstock wishes to thank the ACES members of the ad hoc Organization Committee, including: Jeri Childers, Hiram Fitzgerald (chair), Timothy Franklin, Nancy Franz, Susan Gust, Samory Pruitt, and Audrey Jaeger.
Save the Date: ACES 2020 Members' Meeting
March 30-31, 2020 APLU Headquarters Washington, DC The Academy's 2020 Annual Members' Meeting will focus on public policy and the role ACES…
The Academy Issues 2019-2020 Action Plan
May 27, 2019 The Academy convened its annual Members' Meeting in East Lansing, Michigan on March 10-11, 2019. The conversations were robust and…
Dates of ACES 2019 Members' Meeting Announced
March 10-11, 2019 Michigan State University East Lansing, Michigan ACES members will be receiving invitations to attend the Academy's 2019…