Diana Natalicio
University of Texas at El Paso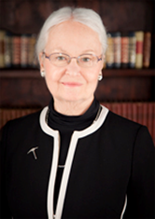 Biographical Abstracts
Diana Natalicio has led the University of Texas at El Paso (UTEP) to become a shining example of a university engaged in its community. Under her leadership, the university has served the needs of the community and inspired numerous community-engaged scholarship efforts, including the Magrath-nominated Nuestra Casa Initiative.
Notable Achievements
Since 1988, Diana Natalicio has spearheaded development of a leading Hispanic-serving institution, growing enrollment and at the same time growing access—students now represent the demographics of their community far more than they did in 1988.
In committing herself to ensuring access, Natalicio committed the university to its community. UTEP now stands as a community engagement model for other universities. Her leadership sets an example for other college and university leaders to establish the policies and infrastructure for engagement.
Community-engaged programs at UTEP have inspired community-engaged scholarship efforts. Examples of UTEP programs with the number of citations found in Google Scholar:
Mother-Daughter program, to raise educational aspirations of Hispanic girls (59)
El Paso Collaborative for Academic Excellence, to close achievement gaps (131)
Center for Civic Engagement, directing students' investment in their communities to service learning and civic participation (49)
Under Natalicio's leadership, UTEP revised its tenure and promotion policies in 2000 to include recognition for community-based scholarship. Natalicio has authored and co-authored articles and given speeches on the value of community engagement and community-engaged scholarship. Examples include (details in CV):
(with Kathleen Staudt) "20-20: Building Access, Engaged Learning and Excellence"
(with Kathleen Staudt) "Engaged Universities: Border Vantage Points on Institutionalization"
Keynote Speaker, El Paso Collaborative for Academic Excellence, Collaboration for Academic Excellence: Higher Education, the Schools, and the Community Keynote Speaker, Community Partnerships Seminar, Kellogg Foundation
Natalicio has been a significant enabler of community engagement scholarship, using her presidential voice to encourage engagement at her institution and well beyond.