Dwight E. Giles, Jr.
University of Massachusetts, Boston
Professor Emeritus
Merrimack College, Adjunct Istructor
Providence College, Adjunct Instructor
https://www.umb.edu/news/detail/umass_boston_professors_and_staff_member_honored_for_mentoring_graduate_stu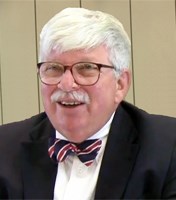 Biographical Abstracts
Dwight Giles is professor emeritus of leadership in education in the College of Education and Human Development, University of Massachusetts, Boston. He has authored and co-authored numerous books and articles on service-learning research and community engagement, including "Where's the Learning in Service- Learning?" He recently co-developed online resource modules entitled, "Six Steps to a Service-Learning Course." He is the co-recipient, with Janet Eyler, of Campus Compact's 2003 Thomas Ehrlich Faculty Service-Learning Award. He won the 2009 Distinguished Research Award from the International Association for Research on Service-Learning and Community Engagement. In September 2016, he was inducted into the Academy of Community Engagement Scholarship. He received an honorary associate of human letters degree from Bristol Community College in 2018.
Areas of Expertise
Service-learning
Engaged scholarship
Community organizing
Higher education administration
Community-based research