Hiram E. Fitzgerald
Michigan State University
Assocoate Provost of University Outreach and Engagement
University Distinguished Professor, Department of Psychology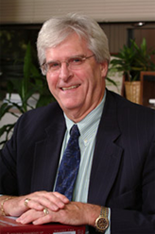 Biographical Abstracts
Hiram Fitzgerald's work represents engaged scholarship not only in his disciplinary area but through unceasing promotion of engaged scholarship as a cross-cutting element of research, teaching, and service. Nationally and internationally, he has advanced the recognition that community engagement is not a supplement but an integral part of scholarship.
Notable Achievements
Dr. Fitzgerald has an extraordinary record of scholarship by any standard, acknowledged by the rare honor of being named a MSU University Distinguished Professor. After 30 years of experimental infant research that produced 256 scholarly articles, books, book chapters, and presentations, he transitioned into community-based research, examining early childhood intervention, pathways to alcoholism, and tribal communities, yielding 228 academic products in less than 10 years.
While representing substantial additions to research on social issues, Dr. Fitzgerald has further enhanced the stature of community engagement scholarship through two avenues. First, his experiences spurred him to become an unflagging and outspoken advocate for community engagement as an integral component of the academic endeavor that spans research teaching, and service. Nationally and internationally, his input is sought by universities seeking to enhance institutionalization of their community engaged scholarship, and his participation is requested by organizations that address prioritizing community engagement scholarship in higher education.
Second, his credibility as a highly productive community engaged researcher demonstrates the integration of community engagement within the academic tradition. Since his 2002 appointment into the Office of the Provost, Dr. Fitzgerald has produced an additional 561 scholarly products, most representing community engaged scholarship or promoting the institutionalization of engaged scholarship as a pathway to deep, systemic, sustained change to address pervasive societal problems. Dr. Fitzgerald has enhanced the visibility and stature of community engaged scholarship through his unique combination of research authority and tireless investment as a champion of community engagement in the academic domain.