Julie Ellison
University of Michigan
Professor of American Culture and English; Faculty Associate, Department of African and Afroamerican Studies
Faculty Associate, Stamps School of Art and Design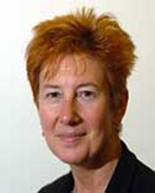 Biographical Abstracts
Julie Ellison has immeasurable impact on higher education, particuarly on the cultural disciplines, such as the humanities and the expressive disciplines, including diverse forms of visual and performing arts and design. In 1999, Professor Ellison inspired college and university presidents and leaders in the White House to launch an organization called Imagining America: Artists and Scholars in Public Life (IA). The purpose of this hundred-member consoroium, was to encourage creative, innovative experiments in creating collaborations the connect faculty and students in the arts and humanities with community partners in mutually designed projects that both benefit society and generate new knowledge in the disciplines of academic participants.
Notable Achievements
Though it would be difficult to document or quantify, Professor Ellison's greatest achievement may be the way she has inspired students and scholars to create new collaborations and partnerships that serve the public good in ways that have rarely been imagined in the fields of literature, history, philosophy, religious studies, and other cultural disciplines. Even though we think of the arts as being created for the public, few artists in academe create with and for their communities.
Julie Ellison has inspired a revolution that she and a growing number of colleagues have taken up out of their desire to connect the resources of their institutions with the needs and opportunities and non-academic experts who work beyond our campuses.
Professor Ellison has also been an active publicly engaged scholar herself. Since 2003, she has been collaborating with faculty and artists in South Africa to develop a community writing center that draws a diverse group of poets, writers, and other creative people. She regularly teaches courses in "Public Poetry" and "Organizing Culture." She is currently developing a fascinating multi-institutional program called "Citizen Alum," which encourages colleges and universities to approach their alumni as "Doers, Not (Just) Donors." Consortium members in this creative program invite their alumni to become "crucial partners in building multi-generational communities of active citizenship and active learning."