Juvencio Rocha-Peralta, Jr.
Association of Mexicans in North Carolina, Inc. AMEXCAN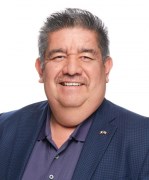 Biographical Abstracts
Juvencio Rocha Peralta, Jr., a native of Veracruz, Mexico, has lived in North Carolina since 1980 and has been a community advocate and leader in communities local and abroad for the past 35 years. Mr. Rocha-Peralta has been the Executive Director and Founder of the Association of Mexicans in North Carolina, Inc. (AMEXCAN) since 2001.
Rocha-Peralta serves on numerous task forces and boards addressing the needs of the community, including as the founder and president of the Eastern North Carolina Latin-American Coalition Inc., board member of the Martin-Pitt Partnership for Children, counselor advisor of the Mexican Institute Abroad, board member of East Coast Migrant Head Start Project, board member of the North Carolina Rural Center, and member of the Rural North Carolina Latino HIV/AIDS Task Force Initiative.
He has received numerous awards for his commitment to service within our communities. Some of his most recent awards include: Academy of Community Engagement Scholarship member, 2016; Substantial Award, 2014; Best-Irons Humanitarian Award, 2012; American Civil Liberties Union of North Carolina Award, 2010; International Human Rights Award, 2010; the North Carolina Justice Center Defender of Justice Award, 2009; Orgullo lo Nuestro, 2009, Univision Television Network; and Otli Award, 2002 (the highest award that the Secretary of the State of the Exterior of Relations of Mexico presents to a Mexican citizen living in the USA, recognizing commitment and services to the Mexican residents of North Carolina).
Areas of Expertise
Social Justice for migrant families