Nancy Franklin
Pennsylvania State University
Director, Programs and Partnerships, Sustainability Institute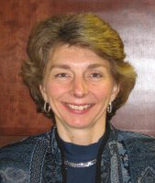 Biographical Abstracts
Nancy Franklin has made contributions to engagement scholarship through articles, book chapters, and meeting presentations. In a landmark paper, "The Need Is Now: University Engagement in Regional Economic Development" for the Journal of Higher Education Outreach and Engagement, she identified characteristics for effective "distributed economic engagement" making successful practices widely available.
Notable Achievements
Dr. Franklin has a notable record of achievement in community engagement as an administrator, writer, and speaker. Through her work helping to envision and found the Institute for Advanced Learning and Research at Virginia Tech, she led a highly successful effort that linked Virginia Tech to multiple communities: industry groups, K-12 and post-secondary educaion, and adult education, civic and municipal organizations including churches, historical societies, and regional government. This network of outreach relationships and activities was established and nurtured by Dr. Franklin and brought services to rural Virginia, helping the university connect with communities that had been hard to reach. The IALR continues to thrive, providing a model for other efforts, receiving the 2007 Magrath Community Award, and, most importantly, helping an economically distressed area reinvent itself.
In her current leadership role at Penn State's Sustainability Institute, she has been the driving force behind strategic planning that brings community engagement to this key issue. Her vision has enabled communities to work with Penn State, a leading research institution in the areas of climate change, earth science, and sustainability practices. Through the university's efforts, guided by Dr. Franklin, industry and civic partners nationwide have had the opportunity to learn about sustainability solutions, pilot and implement them, and feed information on success and scale back to the researchers.
These are highlights of a record that also includes outreach leadership and service in other areas at these institutions, as well as contributions to Indiana University and Indiana State University.