Nancy Zimpher
State University of New York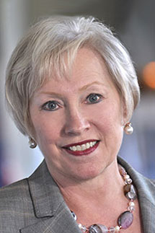 Biographical Abstracts
Nancy Zimpher has led three public universities and has made university engagement with the community a central theme at each. At the University of Wisconsin-Milwaukee, Nancy led the development of the "Milwaukee Idea" strategic plan, borrowing from the "Wisconsin Idea" which declared the boundaries of the university of Wisconsin as the boundaries of the state. The Milwaukee Idea emphasized community engagement—linking the university to the city through collaboration with local businesses as well as non-profit organizations.
At the University of Cincinnati, Nancy established the Strive Partnership (now called Strive Together, a network of nearly one hundred partnerships in 37 U.S. states), a "cradle to career" effort that has, according to the Strive Together website, resulted in a 9% increase in kindergarten readiness, an 11% increase in high school graduation, and a 10% increase in college enrollment among Cincinnati youth. At SUNY, Nancy has redoubled her commitment to community engagement that is transformational, bringing SUNY to the Strive Together partnership, encouraging and supporting community engagement efforts across SUNY's 64 campuses, and leading efforts for the State of New York to reinvent economic development through the engagement of institutions of higher ducation in their regions. The community engagement work that Nancy has undertaken at these universities is leaving a lasting impression in communities across the nation.
Notable Achievements
As one of the leaders of a 2004 conference at Wingspread in Racine, Wisconsin, Nancy co-authored "Calling the Question: Is Higher Education Ready to Commit to Community Engagement?" This conference statement and its recommendations were a clarion call to action for universities to undertake the necessary work to become truly engaged institutions. Nancy has contributed other important pieces to the literature on community engagement scholarship, including co-editing "Creating a New Kind of University: Institutionalizing Community-University Engagement" and "University Leadership in Urban School Renewal." As a scholar of education, Nancy published widely before becoming a university administrator. Her work in the field of education as well as her contributions to community engagement literature make her one our nation's foremost scholars on the role of universities in communities, and particularly in education.
Nancy was a driving force in establishment of the organization called Urban Serving Universities. Community engagement is an important goal for this organization and its members. I have been fortunate to work closely with Nancy through her many contributions to the Association of Public and Land-grant Universities (APLU). She has been Chair of our board, led commissions, chaired panels, and been a speaker at our national conferences. She also brought Urban Serving Universities into a partnership with APLU. Through all of this effort, she has been a leader on engagement issues.
Nancy never fails to talk about the importance of community engagement when she undertakes these activities, and more importantly she always ignites the interests and passions of others—inspiring our university leaders to make community engagement central to the missions and purposes of their institutions. As a member of the Academy of Community Engagement Scholarship, Nancy continues to advocate and inspire.