Pilar Aramburuzabala
Autonomous University of Madrid (Spain)
Associate Professor, School of Teacher Training and Education

President of the European Association of Service-Learning in Higher Education
Director of the European Observatory of Service-Learning in Higher Education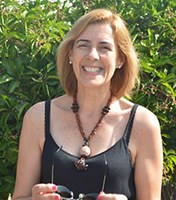 Biographical Abstracts
Pilar Aramburuzabala's training in Education and her work experience have developed mainly in Spain and New York City, where she worked as a bilingual speech and language therapist, education evaluator, and researcher. From 1997 to 2008, she worked as assistant professor of Education in IE University (former SEK University) of Segovia (Spain). She is currently working as an associate professor at the School of Teacher Training and Education of the Autonomous University of Madrid, where she served as chair of the Department of Pedagogy from 2018-2020.
Since 1997, she oriented her academic interests towards the fields of civic engagement and education for social justice. On this topic she has lectured, coordinated monographic issues, and published over 70 articles and book chapters. She is an active member of the research group "Educational Change for Social Justice" (GICE) and the president of the European Association of Service-Learning in Higher Education and director of the European Observatory of Service-Learning in Higher Education. She is also coordinator of the Service-Learning Unit-UAM of CIVIS (a European civic university consortium).
From 2014 to 2017, she led the European project, "Europe Engage-Developing a Culture of Civic Engagement through Service-Learning within Higher Education in Europe." She also coordinates the Spanish team in the Erasmus+ KA2 "Rural 3.0: Service Learning for the Rural Development" (2019-2021).
Her education includes: BS Pedagogy, BS Primary School Teacher, MS Speech and Language Therapy, and PhD in Education by the Complutense University of Madrid; MS Special Education at Hunter College of the City University of New York.
Areas of Expertise
Teacher training
Education for social justice
Service-learning in European higher education
Pedagogy