Sandi J. Rideout
Friends of the Children - Utah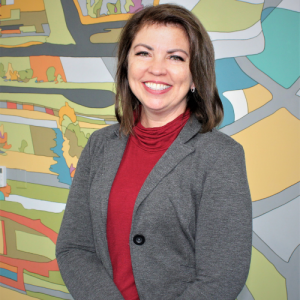 Biographical Abstracts
Sandi Rideout is passionate about the power of access and mentorship and is grateful for the opportunity to work in this space. As the executive director of Friends of the Children - Utah, she works with her team and the community to break cycles of intergenerational poverty using a professional mentoring model that impacts the lives of youth for 12+ years. Rideout works to develop vision and direction around partnership, development, growth, and impact.
As a first-generation college student, Pershing earned a BA in Dance, an MPA, and a PhD in Public Administration. Prior to her current work at Friends - Utah, Rideout was the vice president of University Relations for the National College Advising Corps. She also previously served as the assistant vice president for Engagement and dean of Continuing Education at the University of Utah for many years, where she and her teams worked to build and support innovative programs and pipelines to and through higher education.
Rideout teaches Leadership, Change, Organizational Theory, and Non-Profit Management in the MPA program at the University of Utah and is a past national president for the University Professional and Continuing Education Association. Pershing is also the co-author of Organization Theory and Governance for the 21st Century (2014) with Eric Austin, and she co-edited Classic Readings in Organizational Behavior (2008) with J. Steven Ott and Richard Simpson, and Classics in Public Administration (2003) with Jay Shafritz and Albert Hyde.
In her spare time, she loves travel, old trucks, and spending time with family.
Areas of Expertise
Non-profit leadership
Youth mentorship
Organizational theory
Intergenerational poverty
Public administration