Timothy V. Franklin
New Jersey Institute of Technology
Associate Vice President for Business and Economic Development
Special Advisor to the President, Office of Research and Development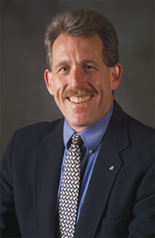 Biographical Abstracts
As an administrative leader at land-grant and public institutions of higher education, Timothy Franklin's work has been characterized by the formation of partnerships that have brought together academics, private sector leaders, and policymakers to address key societal challenges regionally and statewide. He has also provided national leadership for transformative regional engagement.
Notable Achievements
Inspired by the Kellogg Commission report, Returning to Our Roots: The Engaged Institution, Tim embraced the opportunity to become the founding Executive Director of the Institute for Advanced Learning and Research in economically distressed southern Virginia, a regional initiative created in partnership with Virginia Tech. He crafted policy arguments, won $80 million of funding, defined institutional mission and programs, and forged dozens of partnerships focused on transforming the economy of dying region. During his tenure, Virginia Tech was awarded the Mcgrath Engagement Award and other national recognition for the IALR.
Tim founded Transformative Regional Engagement (TRE) Networks as a non-profit organization designed to bring research universities together with public and private sector leaders to stimulate federal policy dialogue and develop collaborative agendas around university engagement in large-scale regional economic vitality.
Most recently, at New Jersey Institute of Technology Tim has spearheaded the development of New Jersey Innovation Institute, a public/private university engagement model. At Penn State, Tim led the visioning for a regional economic engagement model, PA Prosperity Partnerships, leveraging the institution's Commonwealth Campuses to partner Penn State research interests with regional assets to fuel regional development. A focus of Tim's work at Indiana State University was to craft state policy arguments to support university engagement in educationally underserved regions of the state.
Tim has written national policy journal articles on university engagement and developed a related proposal for the Obama transition team. He served on the Engagement Academy faculty, has written refereed publications, and given numerous national presentations.